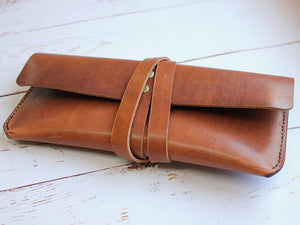 Leather Pencil Case - Horween Dublin
Sale price Price $69.00 Regular price Unit price / per
Tax included.
This rugged handmade leather pencil case come wrap clutch is made to last and stylishly protect your ink and lead or accessories. The beautiful horween dublin leather is soft and supple, with its waxy pull up giving it a rugged and worn-in appearance. The leather strap is wound around the case with the end to poke through to keep the case closed and secure.

Hand stitched with waxed linen thread that is strong, durable and repairable. The edges have been bevelled and burnished, and sealed with beeswax for a high quality finish. 

Can be used as a pen and pencil case, pouch, or even as a make-up bag or clutch!

Measures roughly: 230mm x 100mm

Handmade to order in: 5-7 working days.